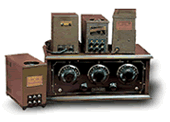 With the start of World War II in 1939, Hammond started to build specialized transformers and reactor for military communications and radar equipment. Almost overnight the Company grew from under 50 employees to over 300 to satisfy the critical surge in demand for transformers.
In 2001, Hammond Manufacturing officially became two companies. Rob Hammond headed Hammond Manufacturing, which manufactures electrical enclosures, electronic packaging, power bars, and electronic transformers. Bill Hammond renamed his transformer division Hammond Power Solutions, which manufactures custom and catalog transformers and related magnetics. This reorganization has enabled both companies to pursue their strategic goals independently, providing an orderly succession to the next generation of the Hammond family and an opportunity to create increased enterprise and shareholder value. Behind the Hammond name is a rich history of spanning over 90 years.
Learn more about the history of the transformer.
Hammond Museum of Radio

The Hammond Museum of Radio was formed when the museum founder, Fred Hammond, began collecting early radio and wireless artifacts at the age of 16. The first public display of his collection was in a small building at the rear of his College Street home in Guelph, Ontario that originally housed his ham station.
The Museum is now home to hundreds of receivers and transmitters dating from the spark era up to and including National's first solid state HRO500. Over the years the Museum has evolved to become one of North America's premiere wireless museums.

The Museum is supported by Hammond Power Solutions Inc. and Hammond Manufacturing.