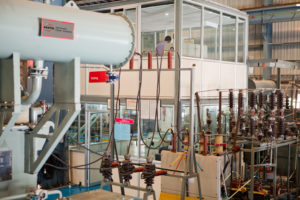 All transformers are tested at the manufacturing facility prior to shipment. They must meet all quality criteria prior to release.
Full-fledged automated in-house testing to carry out all routine tests conforming to applicable standards.
Type Tests can be performed in-house or using independent third party laboratories, including the Central Power Research Institute (CPRI), Electrical Research and Development Association (ERDA), and NABL Accreditation Laboratory in India.
Standard Tests:
D.C. Resistance Measurement
Polarity and Phase-Relation Test
No-Load and Excitation Current Test
Voltage Ratio
Impedance Voltage and Load Loss Test
Dielectric Tests
Applied Voltage Test
Induced Voltage Test
Optional Type Tests:
Temperature Rise Test
Sound Level Test
Partial Discharge (corona)
Impulse Test (BIL)
Short-Circuit Test
Customers are welcome to witness tests and perform factory inspections